---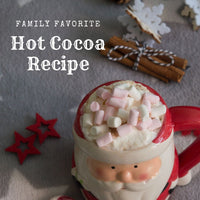 We are so happy to share this recipe with you! It is our family's favorite hot cocoa recipe, and is well worth the time and effort it takes to make a batch.
Pair this with our Christmas Playlist, and you've got a family night ready to go!
This is a free download file. The file will be emailed to you, and no physical copy will be sent. 
Please tag us on Facebook or Instagram (@hickoryandelm) and let us know how you like this recipe!