---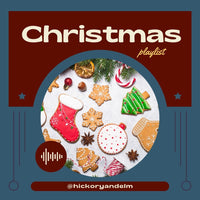 Please allow me the joy of sharing some of my most favorite Christmas tunes with you! As a professional musician and Christian, there are not two higher pursuits in my life that meet in the beautiful collision that is music to celebrate our Savior's birth.
This playlist is a mix of my favorite Christian Christmas songs with lyrics as well as a couple of instrumental pieces. These songs are available on major streaming platforms, or you can access the playlist via YouTube (link provided).
Pair this with our Family Favorite Hot Cocoa recipe for a night of Christmas cheer while you decorate or wrap presents!!
Please tag us on Facebook or Instagram (@HickoryandElm) and let us know what your favorite song on the list is!
Note:
This is a downloadable PDF file. The file will be emailed to you and no physical product will be sent. The PDF file contains a list of songs for searching on your preferred music streaming platform as well as links to a YouTube playlist.
Stocking Stuffers
I recently purchased a couple hackey sacks from Hickory and Elm as stocking stuffers for my kids this year. They are perfect, were packaged appropriately and arrived quickly! Thank you!
I Be Jamming 🎄🎶🎼🎺🎹🎄
A great Christmas playlist without the "annoying" Christmas songs that always seem to make it in to most lists. Looking for a solid list for the holidays? Grab this now. It's free too, so why not?