---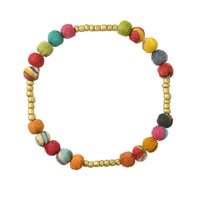 This beautiful bracelet is made from wooden beads covered with colorful, upcycled kantha fabric strung on an 8" elastic band and interspersed with a series of tiny golden beads. These are truly one-of-a-kind! 
We recommend stacking this bracelet with the Kantha Sonnet Bracelet for an extra punch of vivid color!
These beautiful and distinctive pieces are made by women in India who are part of a Fair Trade co-op. They work in a safe environment and are paid a fair wage for their artistry. Because of this jewelry, they are able to provide for their families in such ways as sending their daughters to school or getting running water in their home for the first time.